High-Security Locks Detroit, MI – Father Son Locksmith Shop
Security is always the most important concern for home owners and business people alike. With growing technology, the number of security threats has also increased. Any intruder will get inside your premises by cracking your locks open, hence weak or outdated locks are a huge leeway in your premise's security. It is always recommended to stay abreast of technology advancements and install high-security locks in your home or office. You can rely on Father Son Locksmith Shop to set up an apt security system for your premises. Whether it is a deadbolt on your home door or a digital security lock for offices, we can do everything it takes to secure your premises within Detroit, MI area.
Why high-security locks are the need of the hour?
Every home is at a great risk from burglary any time of the day, so it is necessary that you realize the importance of high-security locks. When a lock can save your valuable possessions from being vandalized, why not upgrade your outdated locks with them than wait for the worst? If you have any doubts on whether your home or office requires a high-end lock, then you can reach Father Son Locksmith Shop for consultation and get a perfect lock system installed right away.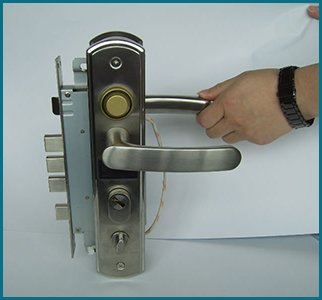 Characteristics of high-security locks:
Prevents lock picking
Made from high-quality materials
Prevents unnecessary intrusion
Anti-manipulation design
Offers enhanced security
Evaluation and assessment of your property:
Most of the time you may not know exactly if your home or office requires high-security locks, but locksmith experts from Father Son Locksmith Shop will let you help you in assessing your valuable property and come up with an ideal solution to determine the type of locks that will suit you. Our professional locksmiths will help you in installing top-quality high-security locks for protection of your property 24/7.
Get the right high-security locks installed:
The security system that a home requires is entirely different from that of a commercial establishment. While a business premise needs multiple levels of advanced security, homes may not need that much. An expert advice is always necessary to decide on the high-security locks for any building.
We ensure enhanced security levels with our high-quality locks sourced from popular brands such as ASSA and Mul-T-lock. Be it any modern security threat, there are different types of high-security locks that you can avail such as:
Smart locks for residences
Heavy Duty padlocks
Deadbolts
Rim/Mortise locks
Knob/lever locks
Digital locks
Electromagnetic locks
Planning to install high-security locks? Reach Father Son Locksmith Shop to get the right lock!